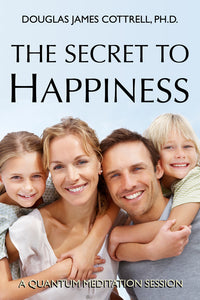 The Secret to Happiness (e-book)
PDF format (17 pages)
If you feel you are experiencing blocks to happiness, then this transcript is for you.
So many of us waste time, energy, and resources in the pursuit of happiness, yet we still feel dissatisfied, unfulfilled, and unhappy much of the time. What are we doing wrong?
In this key Quantum Meditation™ research session, done in December 2015, Douglas James Cottrell reveals the secret to true happiness. It is one of the most empowering and insightful clairvoyant sessions he has given to date, describing strategies to achieve happiness in a measurable, practical way. As he says, we can often be the saboteurs of our own peace of mind, by falling into poor patterns, behaviours and habits. Now you can learn how to correct these mistakes and move towards positive emotions.
In this verbatim transcript, Douglas defines what happiness means, and the steps to achieve it, in an easy-to-follow way, illustrated with many examples. Included are numerous suggestions for becoming more patient with yourself, and for developing emotional maturity and self control. Emotional responses can rob you of your peace of mind and joy. Learn how to prevent being triggered into these in the first place! 
"As one continues to understand the link between the mind and the emotions, you begin to control your emotional reaction, your emotional selection, and you are not triggered into unwanted emotions. Of all the emotions, love is the most constructive and the most profound. Any derivative of love, therefore, is to be pursued: harmony, enthusiasm, contentment." - Douglas James Cottrell
Happiness is everyone's birthright. You have a right to be here, and you have a right to be happy!
CLICK HERE TO READ AN EXCERPT.
Note: this is a digital product. You must download it to your computer or device, as no physical product will ship to you. All digital products are final sale.
Also available in these formats (on other websites):