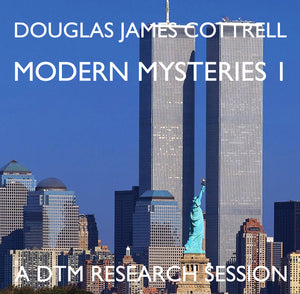 Modern Mysteries 1 Research Session
Regular price $9.99 $9.99 Sale
Kennedy assassination, the World Trade Center attack, and the Lunar Landing of 1969.
This is an audio recording of a Quantum Meditation™ research session by Douglas James Cottrell. It includes answers to:
- the question of how many people shot President Kennedy, where they were, and why he was assassinated;
- how the Twin Towers of the World Trade Center were really destroyed;
- and a mind's eye view of  the  Lunar Landing  of 1969 (genuine or hoax?).
Approximately 60 minutes. MP3 format. This is a digital product. You must download this after you purchase, as no physical product will be shipped to you. All digital products are final sale.