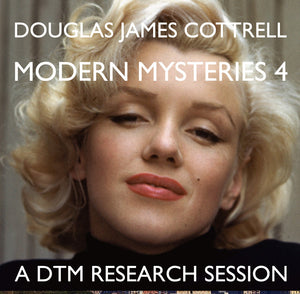 Modern Mysteries 4 Research Session
Regular price $9.99 $9.99 Sale
Marilyn Monroe's death, Pope Benedict XVI, future of Gold and Silver prices, Stock Market crash, and more.
This is an audio recording of a Quantum Meditation™ research session by Douglas James Cottrell. It includes answers to questions about:
- the upcoming Stock Market crash;
- the Anti-Christ;
- Osama Bin Laden's whereabouts
- Pope Benedict XVI and the fate of the Catholic Church;
- Marilyn Monroe's death;
- the future of gold and silver prices;
- and whether or not an asteroid will collide with the Earth.
Approximately 60 minutes. MP3 format. This is a digital product. You must download this after you purchase, as no physical product will be shipped to you. All digital products are final sale.