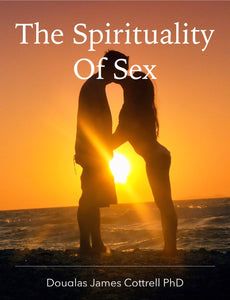 The Spirituality of Sex (e-book)
PDF format.
(formerly published as "Love And Sex")
Sex is the most-practiced activity, yet it is the least understood. Many of the world's great religions have edicts on sexual practices that seem at odds with our physical natures.
Learn all about love, lust, sex, relationships, sexuality, and how to use sexual energy for your highest spiritual enlightenment.
"Any who attempt to understand themselves and discipline themselves must contend ultimately with their sexual urgings. No one is given any more than they can handle."
This transcript explains the soul's purpose of sexual relations and answers questions we all have about love, lust and sex. How can we attain harmony in our relationships? How do karma and past lives impact our present romantic relationships? How can we use our libido or sexual energy for the greater good? Did Jesus the Christ have sex?
An excerpt: "Why must there be the denial of self? Surely not to create frustrations. Surely not to create passions. For thy God is a loving and just God. He would not see that any would suffer. If one would have a sex drive that would be great, and the other that would have a sex drive that would be not, is it fair or just that one must be frustrated and the other not? Indeed, when there is duality, when there is inconsistency, then you would find the basis for error, or right or wrong. Any who would intend to inhibit another are surely not of thy loving and just God's thinking, but are the thinking of Man in order to gain control over fellow Man. Love is not sin. Lust is sin."
Also features information regarding masturbation, birth control, promiscuity, celibacy, extra-marital affairs, homosexuality, gender and sex change, rape, abortion, and so much more.
This is a verbatim transcript of a Quantum Meditation™ research session by Douglas James Cottrell
15 pages.
This is a digital product. You must download this after you purchase, as no physical product will be shipped to you. All digital products are final sale.
Also available in these formats (on other websites):