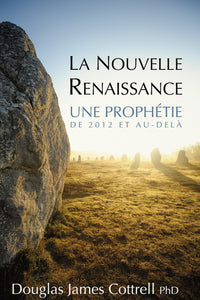 Nouvelle renaissance: une prophétie de 2012 et au-delà (e-book)
Regular price $29.95 Sale
French. This full-length book is a prophecy for the future about the coming Earth changes, how to prepare and what lies beyond. Published in March 15, 2012, the information was gathered from the Akashic Records through a series of Quantum Meditation™ research sessions done by Douglas James Cottrell in 2011 and 2012.  
Part 1: The Thread That Connects All Things (Prediction and Prophecy)
Part 2: Renovation (Earth Changes)
Part 3: The Gold Standard (Economic Changes)
Part 4: How To Prepare
Part 5: The Golden Age (The New Renaissance)
Part 6: The Golden Rule (The Law of One)
PDF format. 280 pages. This is a digital product. You must download this after you purchase, as no physical product will be shipped to you. All digital products are final sale.
Also available in these formats (on other websites):