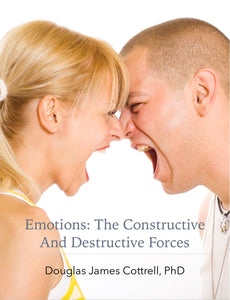 Emotions: The Constructive and Destructive Forces (e-book)
PDF format.
Explains the range of emotions and their larger purposes (for the education and enhancement of the soul).
Includes love, happiness, fear, anger, hate, jealousy, greed, and sun. Plus an explanation on how emotions affect health, and how emotions may be used in business (a realm traditionally held to be free from emotion).
"It should be understood that emotions are not to be overcome. They are to be harnessed. For emotions are both the constructive and destructive forces in the body."
This is a verbatim transcript of a Quantum Meditation™ research session by Dr Douglas James Cottrell.
12 pages. 
This is a digital product. You must download this after you purchase, as no physical product will be shipped to you. All digital products are final sale.
Also available in these formats (on other websites):