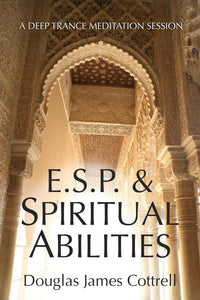 E.S.P. and Spiritual Abilities (e-book)
PDF format.
An explanation of extrasensory perception, and which abilities are associated with that, including clairvoyance, clairsentience, clairaudience, and telepathy.
Questions and answers about ESP, psychic/spiritual abilities and how to develop them. How to develop and encourage these senses or psychic abilities (in yourself and your children). Why we have these abilities. Advice on improving your meditation practice. Plus a treatise on how Jesus the Christ and other prophets used these same abilities.
"Any who attempt to utilize the intuitive currents, or abilities that are within themselves, do so at their own choice. There is no right, there is no wrong. Value must be, here, determined by an individual. There are no rules or regulations, for God's Law is not written on some mountain somewhere, nor is it written in the sand or the sky. God's Law (if it is written at all) is written upon the heart of the self. Through love, through kindness, through what can be considered sincere attempt to be of service, there can be no harm."
This is a verbatim transcript of a Quantum Meditation™ research session by Douglas James Cottrell
14 pages.
This is a digital product. You must download this after you purchase, as no physical product will be shipped to you. All digital products are final sale.
Available in other formats (on other websites):