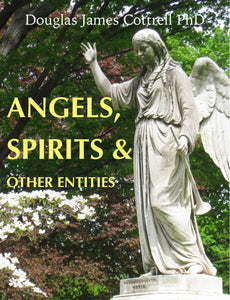 Angels, Spirits and Other Entities (e-book)
PDF format.
All about the nature of angels, spirits, and other entities with whom we share the cosmos.
Includes: angels, archangels, demons, devas, ghosts, nature spirits, elementals and spirit guides. Plus bonus questions on oracles, the legend of Homunculus, the effects of wearing gems and metals, and more. 
A verbatim transcript of a Quantum Meditation™ research reading by Douglas James Cottrell.
"In this dimension, angels would be best understood as divine souls that are truly the benefit of mankind and will encourage, and will create, and will aid any who seek the higher way, the purer way, the understanding of pure love. They will not interfere, nor will they dictate, but they will encourage benevolently. They do have some holdbacks since they have not been in flesh. They do not understand fully the emotional range; however, they do understand the only constructive emotion, love."
18 pages.
This is a digital product. You must download this after you purchase, as no physical product will be shipped to you. All digital products are final sale.
Also available in these formats (on other websites):