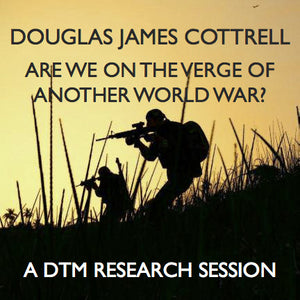 Are we on the Verge of Another World War Research Session
Regular price $9.99 $9.99 Sale
Many are predicting that the election of the next American president will throw the world into conflict, on a global scale. It certainly would appear that tensions are mounting, fuelled by ignorance, fear, bias and a growing feeling of isolationism, division and separation. This is truly a historic time where there are so many "fanatical minds" in the world. 
In this very special Quantum Meditation™ Consultation, Dr. Douglas James Cottrell intuitively gathers information from the Akashic Field about the immediate future of our planet.
This timely and important information describes the fate of numerous countries and territories, including: the United States, the European Union, the United Kingdom, Russia, China, North Korea, Japan, as well as a number of countries in the "tinder box" of the Middle East (i.e. Syria, Turkey, Israel, Iran, and Iraq). 
Will the Islamic State (ISIS) persist? 
What will be the fates of refugees from Syria and the Middle East?
How will territory disputes in the East (and the Pacific) affect those in the West?
There is also an extended exploration of the American presidency and issues specifically facing the next president, exploring questions such as:
will the next government be a Republican or Democratic one?

will the next President live up to expectations?

will America flourish or flounder under the next president?

will the next president be able to overcome divisions in America?

what will be the future of healthcare, education, gun control, civil rights, and manufacturing?

how will the consciousness of America change under the new government?

how will America's reputation on the world stage change?
This Quantum Meditation™ Consultation was conducted October 26, 2016 and is not available anywhere else.
Approximately 20 minutes. MP3 format.
This is a digital product. You must download this after you purchase, as no physical product will be shipped to you. All digital products are final sale.