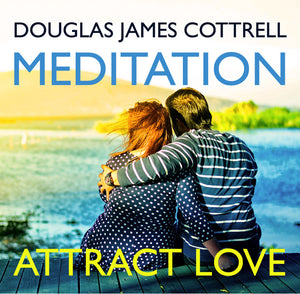 Attract Love
Regular price $9.99 $9.99 Sale
"Let your spirit soar and look for joy wherever you can find it. And then look for someone who finds joy in the same things that you do…Look for love each and every moment, and sooner or later you will indeed find that love, and you will love your mate as your mate will love you" - Douglas James Cottrell, Secrets of Life
Love comes in many forms, but it always comes to those who look for it. In this meditation, Douglas guides you on a journey designed to bring more love into your life, manifest more loving relationships and perhaps even find your perfect soulmate—someone who loves you as much as you love them.
This meditation makes use of visualization and your intuitive states of mind, while invoking universal laws such as the Law of Attraction and the Law of Manifestation. The meditation will help you to become a beacon of light & love, and attract those people who will perfectly match you as true friends, lovers or soulmates.
This meditation includes a discussion of how meditation works, how to prepare for meditation, as well as a complete meditation to use the power of your intuitive mind to manifest love or bring to you your perfect soulmate.
Bonus Material: frequently asked questions about meditation.
47 minutes. MP3 format. This is a digital product. You must download this after you purchase, as no physical product will be shipped to you.
Note: Formerly titled "Attract Your Soulmate"